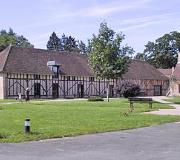 Village Vacances Cap France - La Ferme de Courcimont
Venelle de Courcimont
41600 NOUAN-LE-FUZELIER
Descriptif :
Courcimont Farm is a much appreciated accommodation venue. Its architecture and environment, the friendliness of the spot, its flexibility and warm welcome are conducive to high performance, quality discussions, exchanges, meetings and stronger team bonds. Surrounded by 35 ha (85 acres) of woods.